Headline

XenMedia,XenMedia pro,xenforo xf2,xf2 media
Short Description

You can FREE Download Xenforo XF2 [8WR] XenMedia 2 (Media) Pro version 2.1.1.4 from nullpro website. it is zip Extention type and 488.1 KB File size. Until Xenforo XF2 [8WR] XenMedia 2 (Media) Pro have 1 Description Attachments, 1 discussion, 1 Updates, 373 Views.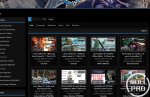 This is a complete rewrite of my media library system for XenForo.
XenMedio
is a library system where users can submit videos hosted on several popular media platforms (ie:
YouTube
,
Dailymotion
, etc). They can then tag keywords and users directly to videos, which can help search and find them in a *
booru
-style system.
Basic Features
:
Automatic retrieval of media data from submissions.
Content tagging through keywords and users.
*booru-style keyword/user searching and filtering.
Rudimentary support for embedding for local content.
Full integration into XenForo's content handler system.