XF Compatibility

2.0.x
2.1.x
2.2.x
Headline

Introducing the fan favorite UI.X for XenForo 2.
Short Description

You can FREE Download [TH] UI.X 2 Dark version 2.2.13.0.2 from nullpro website. it is zip Extention type and 3 MB File size. Until [TH] UI.X 2 Dark have 9 Description Attachments, 13 discussion, 12 Updates, 694 Views.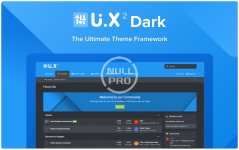 Introducing the fan favorite UI.X for XenForo 2. Based off of the tried true methodologies of its XenForo 1 predecessor, UI.X continues to push the boundaries of intelligent, performant, perfected design. Modern tools that increase user interactions, familiar user interface based on Google's ever popular Material design, and the backing of a team well-versed in the XenForo software make UI.X a wise choice for any forum. ThemeHouse has been building products for XenForo since day one of the software's release and we aren't going anywhere.
Just a minute to install, a few clicks to easily change images and colors in line with your brand, and you're off and running. And if you ever have a question, we're here to help.
Features
Standard, floating, or sticky navigation and userbar
Dozens of different search bar and navigation position variations
Collapsible nodes, sidebar, postbit,and signatures
Thread styling (sticky, moderated, deleted) and sticky thread separation
Header slogan
20+ social media page icons
Change the main color scheme in seconds with 2-click color change options
400+ other settings, hundreds of thousands of unique design variations within seconds!
ALL fully responsive, retina-friendly and completely customizable
5 different login call to action styles such as modal window, dropdown, and slideout
Simplified color palette for intuitive flat/metro/material design changes
Material Design standard integrated
Millions of customization possibilities
Node grid customization options
Dozens of logo options (text, an icon, icon only, upload your own logo, supports retina based logo's, move your logo to many different places)
Many types of category description types (tooltip, inline, or none at all)
Option to enable Material based avatars
Social Media icons can easily be moved down to the footer or to the logo block
Option to remove the forum list page actions (New Posts and Post New Thread buttons)